Now your Credit Union is Always Open: Anytime, Anywhere.
Online banking allows 24-hour access to your bank accounts with an Internet connection. Features of online banking include: view your accounts, transfer money between accounts, view images of checks, pay bills online with Bill Pay as well as manage and budget your money with Online Financial Management. Members Choice has figured out ways to save our members money with Statement Rewards. This feature is linked to your debit card and is custom to your purchases. An additional money saving feature is Bill Analyzer which is a service that will compare existing bills to other vendors and will notify you if you're over spending.
Online banking is a convenient way our members can access their accounts anytime, anywhere with an internet connection and a computer. Accessing your account online is simple, safe, and secure and will allow you to view and manage your account in the following ways: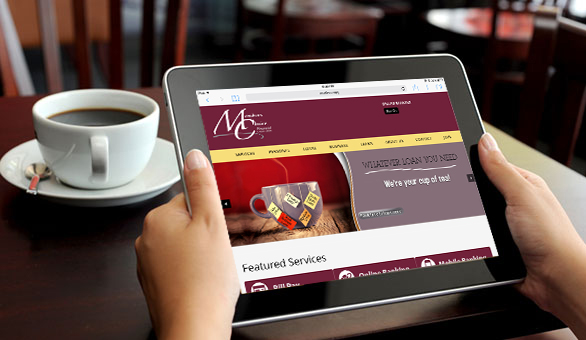 To reduce our carbon footprint, online banking offers e-statements which allow members to view their monthly statement faster and reduces paper consumption.
Check current account balances
Verify withdraws, deposits, payments, and pending items
Transfer funds between accounts
View cleared checks
Make payments on loans anytime, day or night
Track spending habits and learn how to save money
Online banking is linked with other services like iPay, E-statements, and Online Financial Management. This is not just a banking tool, it is a complete financial resource. The new online banking system is cleaner, streamlined, and easier to use — which makes our new online banking better for members still reluctant about using the internet for financial purposes.
To start using Online Banking:
Click "Sign On" next to the laptop at the top of the page
Click Enroll in the top right of the login box
Agree to the Terms and Conditions
Enter your information when prompted
(Note: These instructions apply only if you have never used the new or old Online Banking Service )