Digital Banking & Bill Pay
MC Federal offers online and mobile banking with Bill Pay as part of our digital banking package to safely access your accounts whether you are home going over your checkbook or out and about running errands. Anywhere your computer or mobile device has internet connection, you can connect to us. Our digital banking suite has the same look across the board, making it easier to navigate. You can now personalize your dashboard, look at check images, and do internal transfers from either device. To reduce our carbon footprint, online banking offers e-statements which allow members to view their monthly statement faster and reduces paper consumption. Accessing your account is simple, safe, and secure and will allow you to view and manage your account in the following ways:
Use the Log In button at the top of the home screen,
sign up
for an account, or visit
my.mcfcu.org
to login and experience all these great benefits for yourself.
Mobile Deposit puts ultimate convenience at your fingertips by allowing you to submit check deposits using your smart phone 24/7. Mobile Deposit benefits members by cutting travel time to a branch, and allows for weekend check deposits too. Mobile Deposit is only available in our mobile banking app.
**Member must use our Mobile Banking Application to access Mobile Deposit.
**Subject to Approval.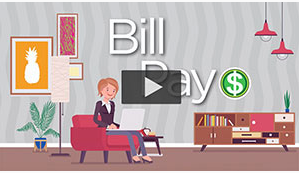 Pay all your bills, all in one place. It's easy, secure and free.*
With Bill Pay, you can pay your electric bill, your credit card and your babysitter, all from your personal bank website. No more writing checks, no stamps, no envelopes, no waiting.
See Frequently Asked Questions
Benefits of Using Bill Pay:
*To Use Bill Pay you must first sign up for MC Federal Digital Banking.