For a limited time you will earn double rewards points on all back to school related purchases with your Members Choice Premium Rewards enabled Visa® credit card! That's double rewards on clothes, shoes, books, crayons, pencils, snacks, and lunches! The rewards points you earn can be redeemed for a variety of exciting rewards including:
To learn more about our rewards program, and how you can make the most out of your Members Choice Visa credit card purchases click on the Premium Rewards logo. This will take you to your one stop shop to review redemption options, redeem your rewards points, and to uncover bonus rewards opportunities. School shopping never felt so good!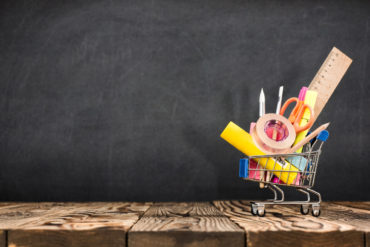 Don't have a Premium Rewards Enabled Members Choice Visa Credit Card? Now is the time to get one! Learn about all of the cards we offer and decide which one is best for you, then apply online or in your local branch. Need help deciding? A loan officer would be happy to discuss your options, give us a call at 800.834.0082 today!
*Terms and conditions apply. Back to School purchases made between July 1, 2021 and September 30, 2021 will earn double rewards points per dollar spent. Offer valid on new and existing rewards enabled Members Choice Visa credit cards. No enrollment necessary. Not all applicants will qualify, Members Choice membership required. Members Choice uses merchant category codes to determine if a purchase will earn double rewards. This means that sometimes a purchase may not qualify for double rewards. For example, some food trucks or food carts may use a "merchandise" code and restaurants in department stores or hotels may use a "merchandise" or "hotel" code instead of a "dining" code. Members Choice is not responsible for merchant category codes used by merchants. Merchant codes valid for this promotion include: office and commercial furniture, office, photographic, photocopy, and microfilm equipment, computers, computer peripheral equipment, software, stationery, office supplies, printing and writing paper, discount stores, department stores, variety stores, misc, general merchandise, men and boys clothing & accessories stores, women's ready to wear stores, women's accessory & specialty shops, children & infant wear stores, family clothing stores, sports apparel, riding apparel stores, shoe stores, men & women's clothing stores, misc apparel & accessory shops, electronic sales, music stores, musical equipment, piano sheet music, computer software stores, book stores, stationery stores, office & school supply stores, artist's supply & craft shops, typewriter stores-sales, rental, service, computer maintenance, repair & services, and grocery stores, supermarkets, bakery.