Now your Credit Union is Always Open: Anytime, Anywhere.
Members Choice's Mobile Banking safely accesses your accounts wherever your mobile device has Internet connection. Bank on your schedule: access your Members Choice accounts right from your mobile device anytime, anywhere. Our mobile banking app can be downloaded in the App Store for iPhone and the Google Play Store for Android devices. Our app is also available to use on tablets. With mobile banking our members can deposit a check simply by taking a clear picture of the front and back, pay bills, transfer money between accounts, track spending patterns, view transaction history, and find any ATM and branch locations.
Safety:
With mobile banking your financial information will remain secure due to our layered security system.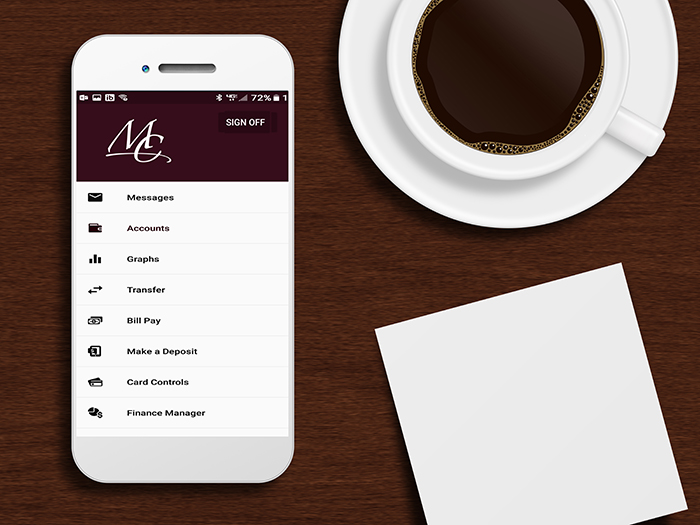 A password is required for each log-in
An account cannot be accessed on two devices at the same time
Transactions are heavily encrypted
All transactions are logged for your protection
High risk transactions risk mitigation – extensive protocols protect your funds when transferred
High risk transaction blocking -unusually expensive transactions to external accounts are blocked
Benefits:
Ease of access and functionality make mobile banking a useful financial tool
Easily access account information
Transfer funds between accounts
View images of previous checks
Locate ATMs and branch locations
View bills and make payments 24/7
Schedule automatic withdrawals from your account
Mobile APP Alternative (MOBILE WAP & SMS)
We understand not everyone has a smartphone.  We have provided two alternative ways for our members to recognize the same convenience of banking on the go.
Mobile WAP – Web based application – required internet access with web browser
SMS/Text Banking – Texting *(texting charge from your wireless carrier applies)
Difference between the 3 ways of Banking on the Go:

| | Mobile App | WAP (Browser Based App) | SMS (Texting) |
| --- | --- | --- | --- |
| View Balances | Yes | Yes | Yes |
| View Account Histories | Yes | Yes | Yes |
| Transfer Funds | Yes | Yes | Yes |
| Pay Your Loan | Yes | Yes | Yes |
| Pay Bills Online | Yes | Yes | No |
| Alert on Balances | Yes | Yes | No |
| Find a Branch or ATM | Yes | Yes | No |
| Requires App Download | Yes | No | No |
| Mobile Deposits | Yes | No | No |
Mobile Deposit is a feature exclusive to the MCFCU mobile app, and does not apply to SMS or Mobile WAP services.
How do I get started with mobile banking?
Once you set up an online banking account with us and log into that account through our website, mobile banking will be activated for your account. Simply log into the app with the same username and password you established for you online banking account.
What are Mobile Deposits?
The team at Members Choice has developed a Mobile Banking Application. Mobile Deposits put ultimate convenience at your fingertips by allowing you to submit check deposits using your smart phone 24/7 and give you immediate access to those funds (based on your deposit limit). Our App benefits members by cutting travel time to a branch, and allows for weekend check deposits too. Qualifying members are automatically enrolled for this service when they sign up for online banking.
Is the Mobile Deposits service available to all members?
Some members may not qualify to use Mobile Deposits based on creditworthiness and account standing at the credit union.
How do I access Mobile Deposits?
Access is easy! Search for "MCFCU" using any smartphone in your App Store and download it today!
How do Mobile Deposits work?
To make a Mobile Deposit, simply select the account you would like to deposit your check, enter the check amount, take a clear picture using your smartphone camera of the front and back of the check, and then click submit.
How much can I deposit?
The maximum available deposit amount for Mobile Deposits varies by member and is determined by Credit Union relationship, creditworthiness and other relationship factors. At any given time, you are able to deposit this amount minus any pending Mobile Deposits. You will see your available deposit amount when you access the service online or on your smart-phone. As we receive and process your checks toward pending deposits, your available deposit amount will replenish itself.
What limits do I have on my account when using Mobile Deposit?
Your account is set up with three limits.
The default limits are:,
Per Item Limit: $1,000
Daily Limit: $1,000
Daily Credit Limit: $200
Per Item Limit: allows you to deposit a single check up to this set amount.
Daily Limit: allows you to deposit multiple checks up to this set amount daily.
Daily Credit Limit: you will receive immediate credit for the check into your account up to this amount daily. (Example: deposit $454.19 total worth of checks. $200.00 of the $454.19 will be available immediately. The remaining will be available upon approval. Checks are viewed and approved the following business day.)
How many checks am I able to deposit at one time?
There is no limit to the number of deposits you can make, provided you do not exceed your available deposit amount.
Which of my accounts will accept Mobile Deposits?
Share Savings accounts, including Money Market and Club/All Purpose accounts
Share Draft Checking accounts
All loans can also accept mobile deposits as payments
Can I deposit third-party checks via Mobile Deposits?
No, it is our policy that we no longer accept third party checks.
Will Mobile  Deposits accept stale-dated or post-dated checks?
No. The check entry system will verify check dates. If a date is more than six (6) months old or beyond the current date, an error message will appear and you will be required to edit the information or delete the check entry.
If I have two checks from two different makers that happen to have the same check number and the same dollar amount, will the Online Deposits system reject the entries?
No. The system will accept both checks without generating an error.
**Member must use our Mobile Banking Application  to Access Mobile Deposit.
**Subject to Approval
Do you ever lose your debit card and worry someone else will find it before you do? Put your worries to an end with Members Choice card control capability! Easily manage your debit card using your Members Choice mobile app to instantly let us know if your card has been lost or stolen. Turn your card on and off with a single touch and the status is changed immediately. With ultimate control comes peace of mind. With card control on your mobile app, you can temporarily disable your card until you find it. It's just an easy switch on our mobile app! Download our free app today by going to the app store on your
iPhone
and the Google Play Store for
Android
devices